Freedom from the Streets was founded in 2019 to support and build power with people who are homeless, formerly homeless, or on the verge of homelessness. Its core leaders and staff have all experienced homelessness and work to listen to and support community members experiencing homelessness to find resources and solutions – both through direct service and policy work.  
Their work is multi-pronged and includes advocacy, community building, resource navigation and support, and street outreach. They advocate for systems change through testimony, relationships, and persistence with decision makers at the state, county and city level. Their on-the-ground work builds power with those who are homeless, formerly homeless, or on the verge of homelessness, empowering them to advocate for themselves through weekly story circles and support meetings. Their work also provides a model for an empowering and inclusive homelessness-focused organization and community by exclusively hiring people with lived experience with homelessness to lead the organization. 
Headwaters sat down with Freedom from the Street's founder and Executive Director, Junail Anderson, for a conversation about Freedom from the Streets, their work, and vision for a more just approach to homelessness organizing and support.  
We hope you'll spend time getting to know the story of Freedom from the Streets and Junail's work, in her own words, below.  
***
The work that we do is helping people that are homeless, formerly homeless, or on the verge of being homeless. I've been homeless, I've been formerly homeless, and I've been one foot out of homelessness. The vision I have for Freedom from the Streets is that people that is homeless or formerly homeless run it, are on its board, and are the ones out in the community - everything.  
Because the simple fact is, if you've never been homeless or you've never been on the verge of homelessness, you don't know what to do. You're just one of those people that says, "I want to help you." And a lot of times, homeless people get sick and tired of that. 
Everybody's experience is different. Everybody that's homeless is different, with different styles of homelessness. So, when you have people that have never been homeless trying to tell people who are homeless what to do and trying to be the boss, that's never gonna work. 
Freedom from the Streets is not like that. My team is a wonderful team. We all been there. We've all been homeless in some fashion, form, or way. 
People that are homeless and formerly homeless are our priority. People that have never been homeless can help us get what we need, on our own terms. They can be volunteers, share information, and help us get access to things that people who are homeless have a harder time accessing. But they're not our boss; we're the boss. 
In my work, I tell the truth and I don't sugarcoat it. A lot of people that have been homeless are tired of being quiet. We are tired of people putting muzzles on our mouths. We can't talk the way we want to talk because people think we are an angry Black woman or an angry Black man. 
I ask people to not just judge me cause of the way I talk or what I'm talking about. Because the way we talk is the way we talk. We want to be free, and to be free, you have to tell the truth. 
So, people that have not lived the experience need to be learning from us. We know what we want, how we want it, and we don't want to fall back into homelessness again.  
We know what we need. 
***
We've got five focus areas: people that's been on drugs or alcohol, people that's been criminalized, people that have been in the system, and people that's been unsheltered, and we've got an unsheltered union. We have someone on our team that has life experience in each focus area. 
We do political work. A lot of people don't like to get into politics but I do. Whatever can benefit Freedom from the Streets and our people, that's what we work on. We partner with MICAH (Metropolitan Interfaith Council on Affordable Housing) on our political work. We go to Homeless Day on the Hill, and we go to Mental Health Day on the Hill because a lot of people who are homeless struggle with mental health, and I like to speak out on that. We also go to Second Chance Day on the Hill, where we advocate for changes to the way the criminal justice system and other systems treat people who have been criminalized. We go to Second Chance Day because having a criminal record can really impact someone's housing.  
We also do education in our work. For example, a lot of people working in housing don't know that being caught up in child protection can also make you homeless. It can also give you a criminal record. We have someone on our team who's been through that. We teamed up with MICAH and now we host meetings and events where we educate people about how the child welfare system does contribute to homelessness.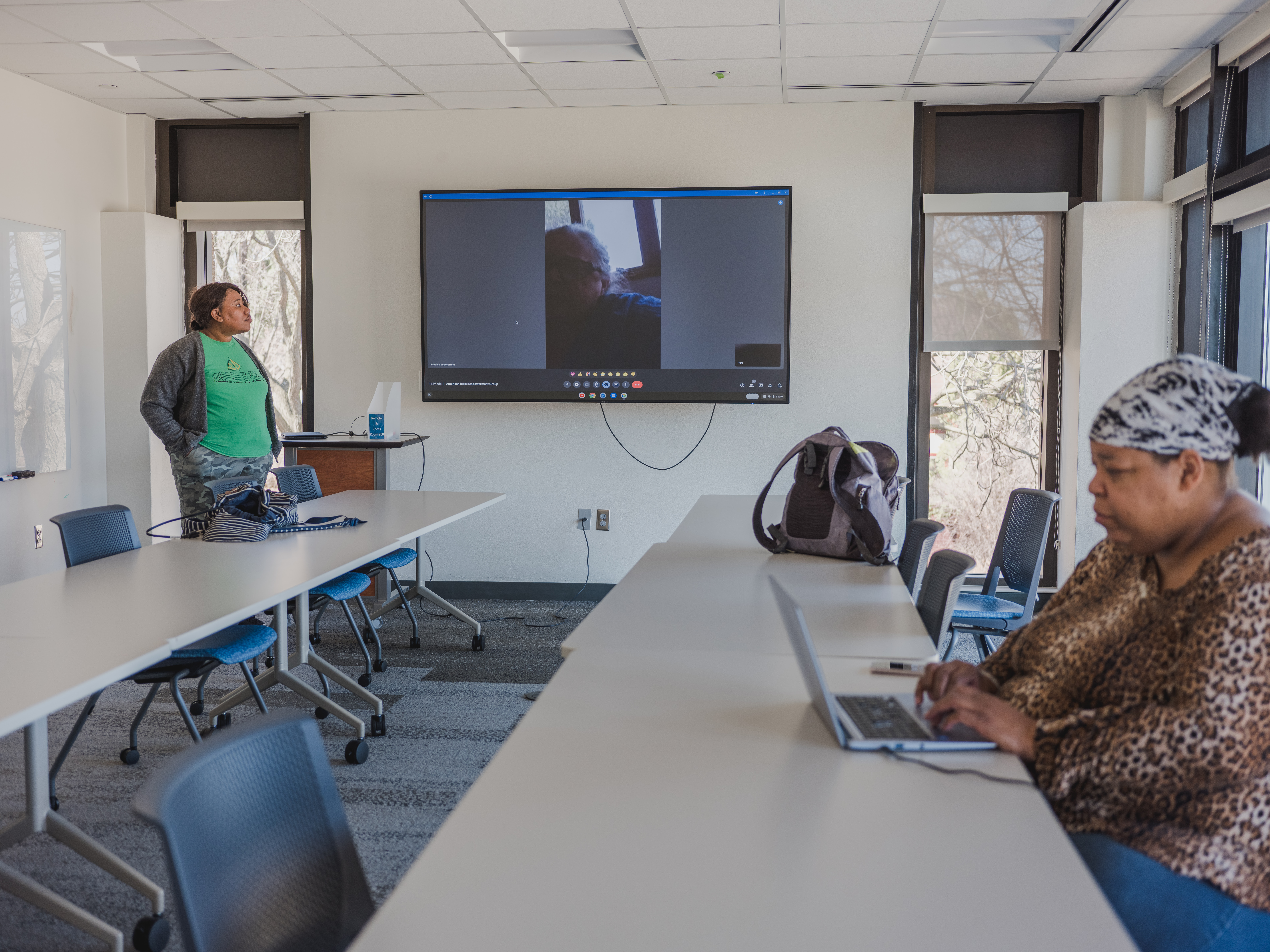 Another part of our work is groups. We bring people together to build connections, community, and support for each other. We have an American Black group and two other general groups in Minneapolis and in St. Paul. In the general groups, we gather to discuss what's going on in the homeless community and changes that could be made. We do the American Black group on Wednesdays. There, we can come together and talk just the way we talk. We don't talk no different - we leave all that other stuff outside. It's just us being us. And it feels so good. People are just being themself, not having to suit up or look a certain way or talk a certain way or do a certain thing. It's just us coming into the room where we are talking regular, as people. 
Overall, we're one of the only homelessness-focused organizations in Minnesota that has homeless and formerly homeless on its board and running things. And that's key, because if you sit down with people that's homeless and you build trust, there's a lot of wisdom to learn from. Having that wisdom at the center of our organization makes all the difference. 
*** 
My community is all of Minnesota. I've been different places, talked to different people, helped people in different communities. My community is everywhere. Wherever people need help, that's my community. It doesn't matter if they Black or white. I help all people. Right now, I'm focusing on Northside because I live over North and I was tired of the stereotype of North that's all about shootings. 
For me, the best leader is somebody that can move back and let somebody else lead. Move back and let somebody else lead because somebody else might have something different to offer than you. 
Like I said, all homeless people is not the same. That means that I could tell some homeless people about some things in my life that they've never experienced. But they could tell me about some things in their lives that I've never been through. If you can move back and let somebody else lead, that's a very good thing, because they bring their own perspective. And that makes the work stronger.  
I'm proud of me still doing what I'm doing and I'm proud of my team, and I'm proud of our success. But what I'm really proud of is the people that's outside that really believe in us. 
I'm really excited about the book that I made with Virginia Farris - Homeless in Minneapolis, Minnesota in 2020. It's the truth. It's cut and raw, and it's not just one sided - it's everybody's stories. We use it in our community work. For example, at Northeast Library, we had a session where we taught staff how to deal with people that are homeless, and they read our book.  
Another thing I'm proud of is when people come up to me and say, "You got me into housing! My case worker couldn't even do that. The people that get paid can't even do that. Why y'all not getting paid?"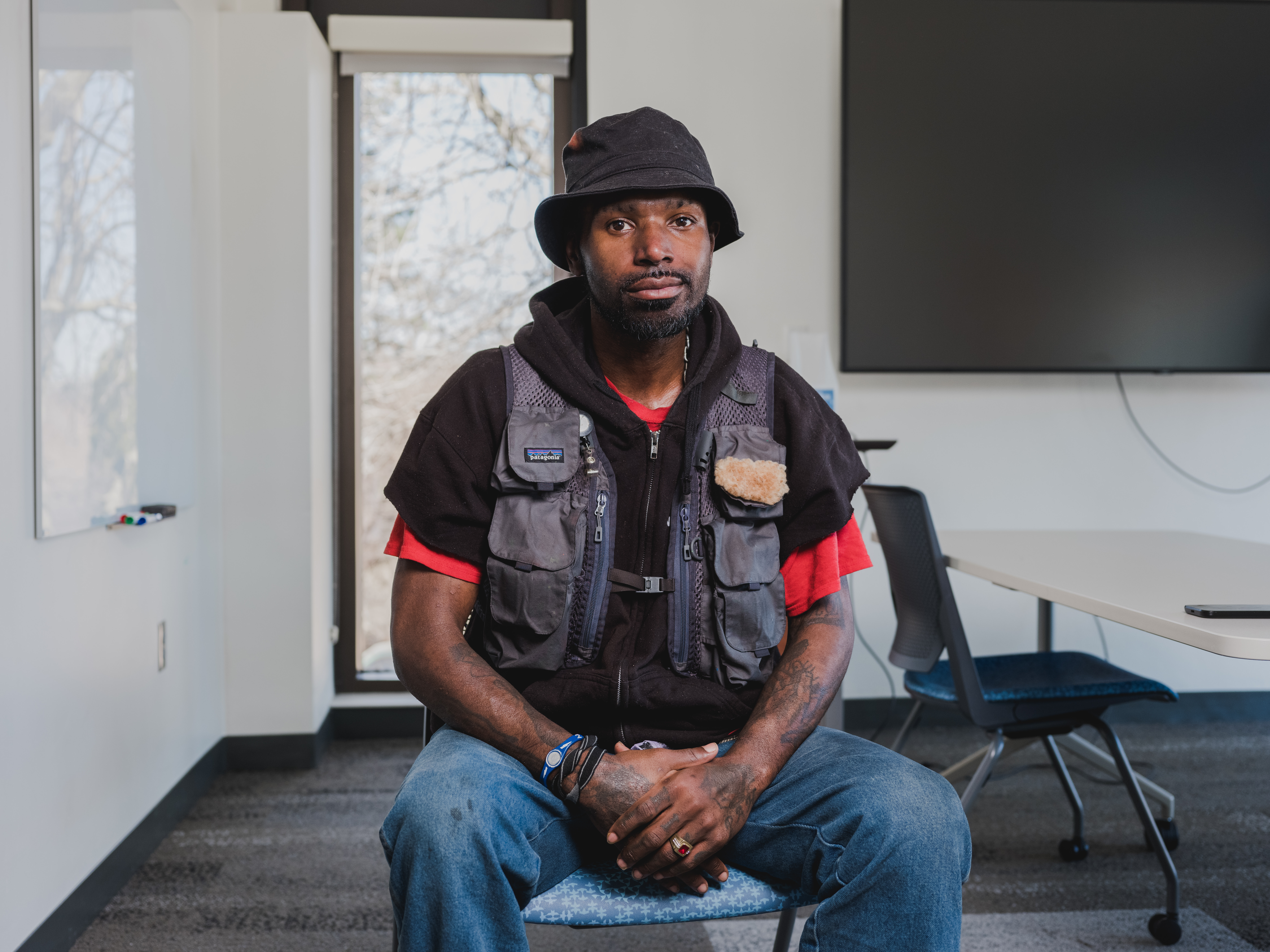 We have groups running, but we don't have a physical space, so it can be hard for people to find us because we move around. If we could get a physical space – man - that will help us out a lot. With a space, people could just come in and see who we are and where we are and what we do. Another thing we need is volunteers for certain things that we do, like our barbecue in the summer. We would also love if we had volunteers so they can go and tell people about us. 
My dream is that we have a couple of buildings and they're deeply affordable - housing for people making less than 30% of the area's median income - and they're not government housing. My dream is to own a building that has Freedom from the Streets' name on it. We would take care of the people and have people working there that love other people. That makes the difference - to have homeless or formerly homeless people working there. We can learn about their gifts, their talents, what they love to do, what they want to do. I want to be able to set them up with that job that they want, that they can do. I dream about that all the time.  
I also dream about having two houses, a backyard with a border fence, and tents in the back. If people want to live in a tent, they can live in stylish tents back there. Come through the back door, your tent's right there. And it won't be no messed up tents - it'll be nice tents that look like houses. And then there's a picnic bench right there. 
They can have fun and giggle and then go out into places where we ain't never been before. Like, I'm from St. Paul and I've never been to the suburbs - I'm scared of them. I'd like to take people who are involved with Freedom from the Streets out of their comfort zone so they can have fun and see things. 
I remember once somebody asked me, "What we supposed to do? Go to sleep, go to work, and die?" I said, "What? No. You want to have fun too!" And that's the thing. Fun. because if we don't have fun, we just go to work, go to sleep, and don't have any fun and it doesn't matter. 
***
To find out more about Freedom from the Streets, visit their website. Find out about their community meetings and events on their events calendar. Freedom of the Streets is looking for volunteers. If you are interested in volunteering with them, call (preferred) or email Junail at 651-350-6105 or iesha.ffts.fyafs@gmail.com