I am a Latina, a lesbian, and a birder. I'm a die-hard St. Paul-ite - the west side of St. Paul. That's where I grew up and have lived for decades. And I always joke I'm an ex-accountant. 
I first got connected to Headwaters in the 90s. 
I was in corporate America doing accounting and volunteering outside. What prompted me to action was Pat Buchanan, the conservative politician and TV host who was spewing hate, back in 1991 or so. I thought to myself, "Why isn't anybody saying anything?!" And I had to look at myself and ask, "What am I doing?"  
I went to HR at St. Paul Company where I worked, which is a big, corporate company with 10,000 employees. I said, "I want to do something here to support our GLBT employees." The HR team connected me with a gay gentleman in the office, and together we created the GLBT Network at St. Paul Companies. 
After we started the network, Ron McKinley, who was one of the founders of Headwaters and worked in Community Affairs at St. Paul Companies, came to me and said that I should get connected to Headwaters. That sounded good to me. I joined the grantmaking committee and then quickly joined the board and was on the board for five years. 
When St. Paul Companies downsized and I lost my job, Steve Newcomb, who was the Headwaters' Executive Director at the time, called me after he heard and he encouraged me to apply for a newly created Headwaters job – a program assistant position. I was hired and worked with Headwaters for 16 years. 
During my time at Headwaters, I got connected to so many incredible grantees. 
For example, I've lived on the west side of St. Paul forever but didn't know about an organization called West Side Community Organization – WSCO – before working at Headwaters. So many environmental justice (EJ) groups are predominantly white. I had to actively look for communities of color who were doing EJ work in their organizing. I found WSCO on the west side of St. Paul and was surprised by all the work they were doing.  
That helped change how I engaged with EJ work. I used to travel outside of the west side St. Paul to do my volunteering. After learning about WSCO, I plugged in locally to do work around climate change. I got connected to WSCO, and I'm still connected to them. I've been on the board and am now helping them organize their 50th anniversary. 
What I love about Headwaters is it invests in startup organizations, unapologetically. When I was working at Headwaters, we were a little bit smaller. We gave out a good chunk of money, but it was still a smaller organization. When we were in other foundation spaces, we always talked about the importance of general operating, long term grants. Multi-year grants. During my tenure, those conversations didn't really sink in with other foundations. But I'm starting to see it now. I'm starting to see that other foundations are really changing, which is awesome. I love that Headwaters has grown bigger and is able to have even more influence on philanthropy. It's so exciting.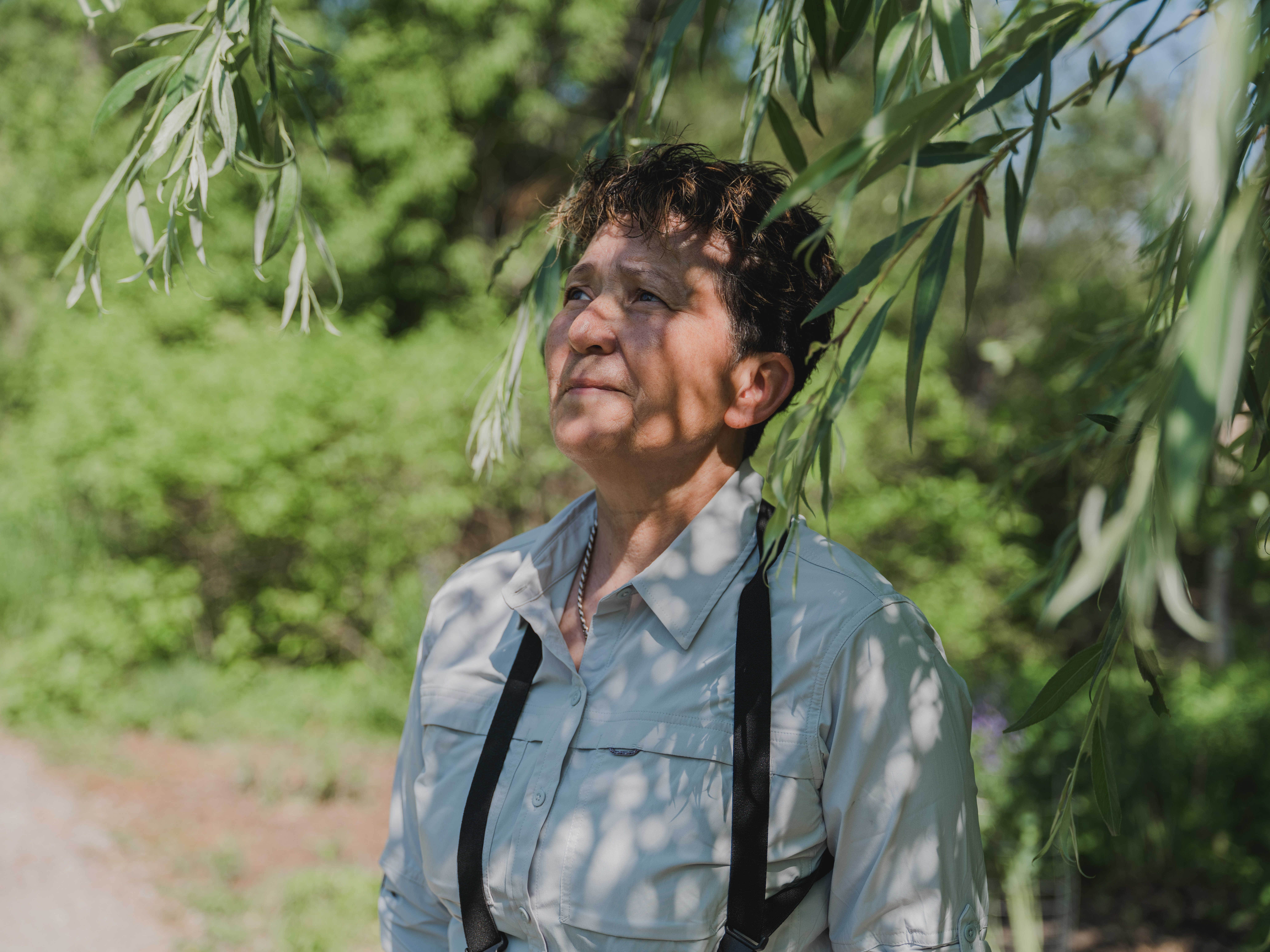 While I was at Headwaters, I discovered something that I truly loved – I became a birder. I got fired up. All I could think about was birds. Over the years, my dream evolved into starting the Urban Bird Collective, an organization that creates safe spaces for Black, Indigenous, People of Color, and LGBTQ+ communities to explore birding and the outdoors.  
I see my work at Urban Bird Collective as connected to what I learned at Headwaters – changing systems by actually creating new systems. I couldn't change the birding community to be more inclusive. That would take forever and ever. What I did was create my own system. I brought together people who reflected 100% BIPOC and LGBTQ community folks, and we started the Urban Bird Collective.  
It is a safe place for people to go birding. I started with eight leaders. I now have 25 leaders. That leadership development was something that I loved about my time at Headwaters and being part of the grants committee there. I love that model.  
While building the Urban Bird Collective initially, I was also doing consulting and on the board of Voices for Racial Justice, which I had gotten involved in through Headwaters. The Executive Director was leaving Voices and during the transition, some staff at Voices for Racial Justice said, "We really want to try a different model of leadership. We want to do shared leadership, but we need you. We need you to do our finances and operations. It's only 15 hours/week."  
It was important work. I was on the board for a reason - I really believed in the mission of the organization, and so, I agreed to do the shared leadership model. I wanted to give these two young women of color an opportunity for leadership. Voices for Racial Justice had never done shared leadership before, so we had to build the bicycle while riding it. It's hard work being an executive director, and I'm not sure how people do it alone. 
Of course, once I got started, the 15 hours turned into 25 hrs/week and three months became six months and so on. It was hard work. But I decided to make it full time and commit to five years of shared leadership. Now, I'm ending my fifth year, at the end of the 2023.  
I think about Headwaters, your grant making, the community that you want to support, and I think about power. We always talk about power. That's something we brought to the shared leadership team at Voices - shared power. Other co-directors looked at me as the elder and thought I should get paid more and I'm like, "No, we're in this together." I was glad to bring that perspective and reinforce that. Just because you might not have experience or you're younger - everybody has a lot to offer! And I learned so much about that from Headwaters.